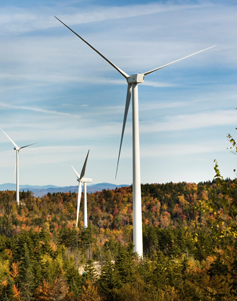 Iberdrola Renovables, the world's leading wind energy company, continues to bolster its presence in the US with the construction of new wind farms.
Work has just began on the Star Point facility in Oregon which will have installed capacity of 98.7 MW. This farm is in addition to others the company has begun building in recent months: Rugby (North Dakota), with 149 MW; and Cayuga Ridge (Illinois), with 300 MW.
This will give Iberdrola Renovables a total of 547.7 MW under construction in the US. Once operational, these wind farms could avoid the emission of 180.000 tonnes of C02 and supply electricity to some 250,000 average US households a year.
Last week Iberdrola Renovables dedicated the Lempster facility in New Hampshire with installed capacity of 24 MW and which will be able to supply electricity to some 10,000 US households a year.
The company, which is present in 20 states, has 34 wind farms in operation in the country. At 31 March, installed capacity in the US totalled 3,031 MW, 31.4% of the group's total (9,624 MW).
The US represents one of the main markets for Iberdrola Renovables and is where a large part of its growth is concentrated. Forty-two percent of the company's project pipeline –the largest in the world with close to 56,000 MW(2), is located there. The company employs more than 800 people in the US.
The Obama administration's support for renewable energies is one of keys to the sector's future growth in the country. In addition to the new measures approved as part of the economic stimulus package (which will help financing for projects, among other issues), Congress is expected to pass a new energy act which could include obligatory nationwide renewable portfolio standards.